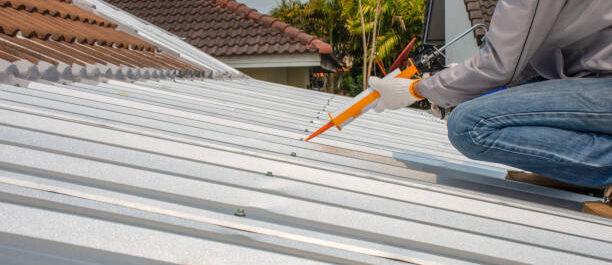 Roof Sealing Brisbane
Famous for the humid weather and frequent rains, roof leaks are all to common in Brisbane and surrounding areas. If you find yourself with a roof leak in the next storm, having roof sealing done as soon as possible is important.
Roof sealant is a cost-effective option that gives you peace of mind. Replacing a roof can be expensive, and isn't always the best option, particularly if you only have a small leak.
If you have heard the unmistakable dripping sound of a roof leak in your Brisbane home, the team at Brisbane Tile Roof Restorations can help.
Let's take a look at roof sealing and the benefits it brings.
What is Roof Sealing?
Roof sealing is the process of applying a coating of roof sealant or coating material to protect your roof from the harmful effects of weather. It provides an extra layer of coating that prolongs the lifespan of your roof against the sun, rain, and other hazards. It is one of the preferred methods of repair and protection, particularly if your roof is in otherwise good shape.
What are Roof Sealants?
Roof sealants are the material that we can apply to seal roofs against weather damage and roof leaks. Usually, we recommend these roof coatings for flat roofs. However, sealants for sloped roofs are also available and work just as well.
Of course, we recommend hiring a roofing contractor like the team here at Brisbane Tile Roof Restorations for a roof inspection and the selection of coating material. The most commonly used sealants are:
Silicone
Polyurethane
Acrylic, and
Liquid Rubber
The selection of the material for a roof depends on the climate of the area, roofing material, cost of coating, and ease of installation.
How Can Roof Sealing Protect the Internal of the Home?
There is no denying the fact that roof sealing protects the internals of your home in many ways. It can stop roof leaks and protect your belongings from the harmful effects of water. Roof coatings are also resistant to mould and algae. Due to less permeability, it does not allow microorganisms to enter your home and damage your property.
Many roof sealing materials are fire-resistant and help you protect your home or office from fire damage. Roof coatings also protect you and your property from the harmful effects of UV rays of the sun which can slowly damage your roof.
Benefits of Sealing a Roof
Sealing a roof means you are adding an extra layer to your roof that prolongs its lifespan. It also protects your home from the severity of weather and extreme elements that we see here in Brisbane. Some of the benefits of roof sealings are:
Provides a waterproofing facility. Elastomeric and silicone roof coatings form a waterproof layer to protect your home.
Roof sealants are also UV resistant and protect your home and office from the harmful impacts of UV rays of the sun.
Your home improvement is never complete without adding an extra layer of coating to ensure fire resistance.
Some roof coatings like rubber have low permeability and stop the entry of microorganisms. It also saves your belongings from mould and algae growth.
Adding an extra layer reduces the incoming heat from the sun and can decrease the electricity costs of your home or office.
While a roof sealant can be done DIY, working on a roof is dangerous, especially if you don't have the right equipment. It is always best to use an expert roofing company when you need work done to the roof of your home or business.
Do you want to protect your Brisbane home from the elements? Give our friendly team a call and book your free roof sealing inspection and quote.